I just checked off my Graphic Novel box with Pride & Prejudice by Jane Austen, adapted by Nancy Butler & Hugo Petrus for Marvel comics. I am not sure I should have done so, as I know the story so well in the book and movie forms that I had a hard time to slow down and actually read it. The story still pulled me in, and I delighted in my favorite scenes in this image-led story. The writing wasn't Pulitzer worthy, but I appreciate how challenging it is to reimagine a beloved classic.
That said, the main reason behind this book, the graphics and drawings, was the biggest thing I disliked about it. I was unable to find any beauty in the illustrations, and didn't think they did justice to the story. I was very hopeful for it upon seeing the cover art.
These covers are fun and whimsical and a good way to draw the target audience of teen girls into the comic store to buy them. Unfortunately, the interior art offers characters with little or no spark, they appear grumpy and depressed.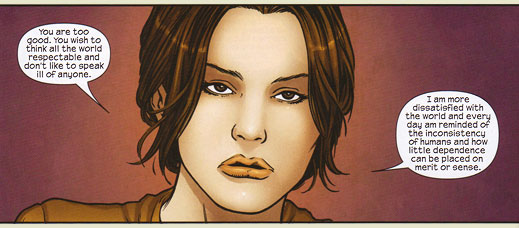 It appears to me that Marvel had artist Hugo Petrus on staff and waiting for an assignment, so they thrust this upon him, even though he was unable to do it justice.
I was dissatisfied with this one of my favorite novels and I think I'll rush home & put on the BBC miniseries tonight to rediscover the fun and frolic behind Jane Austen.
*****